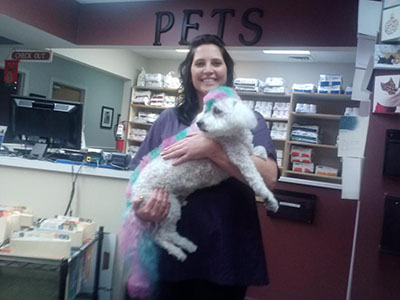 My name is Carrie and I would like to thank you for looking at Pampered Pooch Pet Grooming,LLC. I will be the one taking care of your pets from the moment you bring them in until you come to pick them up. The whole process lasts approximately 2 to 3 hours depending on pet's temperament, coat condition, and scheduling. We will notify you as soon as your pet's grooming is finished if done any sooner. *Please note that things do come up and some pets need a little extra attention, behavioral issue or a health concern that may need to be discussed. Every pet that comes thorough my doors are in excellent hands, please don't rush perfection! We schedule generally by appointment but do offer same day appointments. If you forgot to schedule your furry friend an appointment no worries, but best to call in the morning to be sure we can get you in. Showing up on time for your appointment helps keeps everyone on schedule. If you can't make your appointment, we would prefer you to please call us to reschedule or to cancel to allow an opening for someone else. I do offer express grooming for an extra charge and must be informed at the time of scheduling.

You don't have to worry about extra costs being added onto your bill. As you can see below, our basic grooming package covers just about everything that your special furry friend may need.

The Basic Grooming Package includes a bath with a shampoo PH balanced for your pet or in "Scent of the month" shampoo, drying, cutting and clipping hair as needed, trimming nails, brushing, styling, cleaning & plucking ears, pet cologne, and a bandanna and/or bows to wear home.

We offer add-on's to your basic grooming package, such as medicated bathe for pets with sensitive or problem skin and coat, flea bath treatment, de-skunking treatments, anal glands expressed, and dremeling of nail trims. We offer creative clip styles (such as Mohawks), hair dyeing, and nail polish painting on certain breeds.

I am not "Just a Groomer" I am also a Registered Veterinarian Technician. As your groomer, this gives me the insight needed to work with animals that have special needs. I am willing to work with you and your veterinarian to do what it takes to keep your furry friend in Tip-Top Shape.